The goal of these workshops is to offer an elevated sense of what mosaic is all about, a new way of thinking about your work and the knowledge to enable you to push to the next level. These are intensive, information-packed courses designed to enhance skills and develop artistic expression. The class will focus on sharpening skills and learning new techniques. Technically there will be extensive inquiry into cutting skills, using varied materials, laying techniques and broadening skills and knowledge. Participants work on projects of their own choosing with lots of individual attention, dealing with issues specific to their own work and style. However, class members are invited to participate in discussions so there is a high level of learning from each other's work. Specific topics will include (but not be limited to) cutting techniques and ergonomics, adhesives, substrates, framing and hanging as well as a wide variety of materials and tools, etc. Participants can expect to leave the workshop with a great deal of meaty knowledge that will be of use long after the class ends. Some prior mosaic experience is recommended.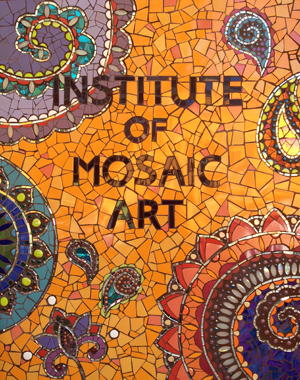 Visiting Artist Series at the Institute of Mosaic Art, Berkeley, California
Mosaic Intensive — Enhancing Technical Skills and Integrating Artistic Expression
August 19, 20, 21, 2016  Friday – Sunday, 10 am – 4 pm
Level: Intermediate/Advanced
For sign up, contact the Institute of Mosaic Art
Unfortunately the Institute of Mosaic Art will be closing in August so this will probably be the last US workshop for a while.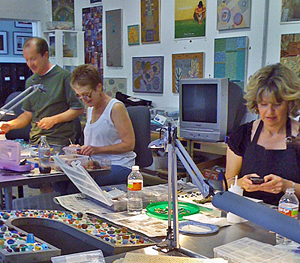 Ongoing Mosaic Classes at the Creative Arts Center of Dallas,  just east of downtown Dallas and off I-30
Dallas Schedule thru May, 2015 (There is a spring session and a fall session)
Please sign up early as classes fill up quickly!
Various mosaic techniques are taught utilizing a wide range of materials, grouts, and adhesives. Students work on projects of their choice.   Suitable for beginners and more advanced students.   Supply fee includes use of adhesive, grout, glue and some tile.
Fridays, 9:30am – 12:30am FULL!
Fall session: Aug 21, 28, Sept 4, 25, Oct 23, 30, Nov 6, Dec 4, 11
$325 Members ($355 Non-Members) $35 supply fee
Saturdays 9:30 am – 12:30 pm FULL!
Fall session: Aug 22, 29, Sept 5, 26, Oct 24, 31, Nov 7, Dec 5, 12
$325 Members ($355 Non-Members) $35 supply fee