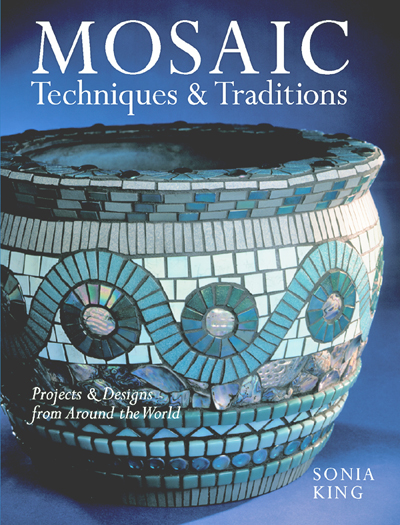 When I wrote Mosaic Techniques & Traditions, I tried to write the book I wanted when I started creating mosaic. Many thanks to all the readers who sent such kind comments, confirming the book's value to the mosaic community.
Mosaic Techniques & Traditions: Projects and Designs from Around the World is a full-color book from Sterling Publishing. The book provides extensive discussion of materials, tools, cutting technique and design issues, in-depth technical instruction on the creation of mosaics, historical information on mosaics as well as seventeen projects. Additionally, the book features a running gallery showcasing a variety of works by international, contemporary mosaic artists. It is visually rich with over 500 images.
The book is available in hardback or paperback from booksellers as well as numerous mosaic suppliers. Click here to order from Amazon.
Title: Mosaic Techniques & Traditions: Projects and Designs from Around the World
ISBN: 0806975776 (hardback) 1402740611 (paperback)
Format: Hardcover or paperback, 256 pages
Publisher: Sterling Publishing Company, Incorporated
Please find reviews, selected reader comments and corrections below.
Reviews
Booklist
Readers interested in learning about the history, technology, and aesthetics of mosaics will find that King's beautifully and comprehensively illustrated volume is an excellent source of both practical information and artistic inspiration. She details the evolution of mosaics from their first manifestations around 3000 B.C.E. in Mesopotamia to the present; chronicles the breathtaking mosaics of Europe, Africa, and the Americas; and surveys the many materials used in their construction, from broken tiles to gold. The basic process has remained the same over the centuries, and King offers detailed how-to instructions in the second, and largest, portion of the book, providing specific information for the budding artisan on materials and tools, techniques, and designs. Project ideas take up the final third of this fresh and useful book, with five projects of varying difficulty derived from three geographical areas. Full of photographs both of finished mosaics and the steps required for their crafting, King's book will inform, instruct, and delight craft lovers. Lauren Roberts
Copyright © American Library Association. All rights reserved
Library Journal
Mosaic art, often characterized by color and fantasy, continues to be some of 4e most imaginative work in the contemporary craft scene. (This book showcases) some of the best work of the past and present….King's book includes step-by-step projects for garden ornaments and furniture, but it is most notable for the numerous photographs of indoor and outdoor mosaics from all parts of the world. (The book is) for advanced or professional craftspeople and (is) suitable for public libraries and academic art collections. Copyright 2004 Reed Business Information.
Book Bytes
A form of decoration as old as the earliest civilizations of Mesopotamia, the art of the mosaic has been practiced continuously for at least four thousand years. The same ancient cities that created the world's first writing system also laid the foundations for what would eventually become a highly sophisticated art-form. Spread by trade and conquest, and eventually adopted by the Greeks and Phoenicians, the art of the mosaic was already widely-dispersed by the time the Roman Empire transformed the entire Mediterranean region into a single political entity. And even as the western Latin-speaking half of the Roman realm collapsed in the face of invading Germanic tribes, the eastern Greek-speaking half (with its capital at Constantinople) preserved the artistic knowledge of earlier civilizations and continued to develop innovative mosaic techniques-such as the positioning of gold mosaic fragments, or "tesserae", at different angles to achieve maximum light reflection.
As Sonia King demonstrates throughout her book, the wide variety of materials available to modern artists is partly what makes the mosaic such an attractive medium. Semi-precious stones, ceramic tiles, colored glass, seashells and even pieces of broken china can all be used to produce enchanting mosaic designs. As durable as they are beautiful, mosaics are just as appropriate for a kitchen wall as they are for a museum entrance. Also, because of the relatively simple nature of the art, even a beginner with very few tools and a supply of inexpensive materials can produce an interesting piece.
Sonia King's book, with its spectacular array of ancient and modern mosaic art, will surely transform any reader into a weekend crafts-enthusiast eager to grab a tool, find a few china pieces and start creating her or his own mosaic. King provides clear, easy to follow instructions for a number of suggested projects, as well as practical advice for beginners; each project description includes a list of materials and tools, and is distinguished by the level of difficulty. However, whether you read King's work in order to learn how to create a kitchen backsplash mosaic, or to contemplate the intricate beauty of complex masterpieces, you will certainly appreciate this charming book. Reviewed by Behjat Kerdegari
Groutline  – Review by JeanAnn Dabb   © 2004
The publication of this book by SAMA's outgoing president is a timely culmination of the research and work accomplished during her term of service as well as an ideal expression of her passion for the medium. Her wide expertise and knowledge of mosaics is thoroughly in evidence, reflected in the sections devoted to showcasing the work of other artists as well as those which provide explanation of techniques.
The book of eight chapters is organized as one might expect beginning with an overview of the history, materials, and techniques of the medium. However, the historical review is accompanied by photographs which, with rare exception are those of the author, confirming the extent of her first-hand knowledge of the physical properties and spatial contexts for the works. The quality of color reproduction evident in this chapter remains uniformly high throughout the entire book. Wording in the subtitle alludes to what truly sets this book apart from others targeted for an artist audience: the international scope of her survey which reveals how the varied historical traditions find current expression among artists of diverse geographical backgrounds. To describe just one example, the reader finds on pages 8-9 of the introduction the image of a 3rd-century theatrical mask from Roman-era Spain paired with the recycled china faces created in 2001 by British artist Cleo Mussi. The shared theme of the human face is striking and serves to reinforce the links that mosaicists, perhaps even more than artists who work in other media, have with the art of the remote past.
Chapters two and three are devoted to issues of process. Materials and tools are the subjects of chapter two where the reader learns more about the features of many materials plus tips that may save them from frustrating sessions in the studio (i.e. some marbles are easier to cut after they have been soaked in water.) As a regular user of PVA glue I was glad to have confirmed by an expert, the properties I had come to rely upon in my own experience and I learned new things about the range of nippers available on the market. The techniques presented in chapter three will already be familiar to some readers while others will find encouragement to try new methods. Following the technical and design (chapter 4) discussion, the text shifts to projects where the earlier information is applied to specific projects.
The book contains much more than one normally encounters in a "how to" manual yet those who primarily search for a source, which answers their questions about process or materials, will certainly not be disappointed. Four of the book's eight chapters include detailed descriptions, accompanied by excellent photographs, of seventeen projects intended for mosaicists whose experiences range from beginner to expert. To name just a few, the pot covered in pennies and nickels, the child's "time-out" chair, and the "Island Wave Vase" are projects that have already prompted some of my own experiments. Readers are sure to find plenty of information (visual and textual) for each stage of any project they choose. Each of those same chapters concludes with photographs of numerous contemporary mosaics that will spark the reader to further inventions.
As geography prompts the organization of the later chapters with subtitles such as "The Americas," I was thrilled to note an added feature: lists of "Sites to See" in chapters 6-8 which, for example on page 140, note cities possessing churches, public buildings, museums, or archaeological sites rich in mosaics. These are the sorts of helpful tips from a seasoned expert that might prompt the mosaicist/traveler to re-evaluate their own itineraries when planning a future trip.
King provides a list of contributing artists as part of the appendix that confirms the wide representation of contemporary mosaic art. Throughout the book readers will undoubtedly encounter works produced by some of their favorite artists and also be surprised by other mosaics they never knew existed. The list makes possible a further search for additional information thanks to the ease of internet access. The internet is also invoked as a source of recommended reading since a bibliography is not included as part of the appendix and those seeking supplies are also directed to reliable websites for that information as well.
For those who have not had the pleasure of listening to Sonia King regale a rapt audience with slide-illustrated presentations or share, in person, the infectious enthusiasm she has for mosaics of all forms, this book will be the perfect guide to begin their own exploration of the world of mosaics. Fans will have their earlier impressions confirmed that here is an artist of talent and generosity, once again sharing her knowledge and broadening our own appreciation of mosaics. This excellent book provides something for everyone interested in mosaics.
Selected Reader Comments
"I must tell you that in all of my mosaic books; I have never had the history of mosaics explained with the clarity that you have done. The pictures are exquisite and the text holds the reader's interest (at least this reader who has the attention span of a gnat) I love how you dissect these beautiful mosaics, and explain what makes them work. I am looking at these pieces with new eyes now. I always admired their beauty, but never thought about what made them work."
-M.S., Delray Beach, Florida
"I received my copy today and I just wanted to congratulate you on the great job that you did. It is absolutely chock-full with yummy photos and your explanations on the techniques are more substantial and informative than any other mosaic book that I have it my collection. Thank you so much for publishing this book for us. The mosaic world really needed this one." -AP, Crema, Italy
"I am still devouring your book, reading each and every word, studying all the photos. I have never enjoyed reading art history as much…the photographs represent the "lessons" so well and I feel like "I'm getting it". I have to tell you I am amazed at the photographs. You are taking me places I will probably never see." -KH, New Smyrna beach, FL
"I ABSOLUTELY ADORE YOUR BOOK — its content (exhaustive and wonderfully presented), its tone (authoritative, yet inviting), its design (straightforward, yet very appealing), its never-ending array of fascinating images (both inspiring, and of the "Oh…THAT'S how you do it!" variety). I could go on and on. I really feel as though it's almost a textbook — and not in a dry, academic way — but in that mind-broadening, pulse-quickening, world-within-my-grasp kind of way. After seeing this book, even though I've never met you, I know you have to be a fantastic teacher. Within just a few minutes of looking at it, I quickly realized that you'd created what I already consider to be the definitive mosaic reference ­ as in "if you can only buy one book, this is the one you HAVE to get."
-M.B., St Paul, Minnesota
"I just received my book yesterday and it is unbelievable! After saying "Oh my God, come look at this!!!" for the 10th time my husband and kids started ignoring me! Oh well, their loss. What a feast for the eyes. I have a collection now of 19 mosaic books and this one beats them all!"
-S.B., Ft Lauderdale, Florida
Corrections
Despite proofing a numerous times. a few boo-boo's have been found. Please let me know if you find any others so corrections can be listed here.
Page 39, Image 1-50     Correct location is Galla Placidia in Ravenna
Page 40, Image 1-52     Sorry, blurry photo due to over-enlargement of mediocre image. My fault.
Page 91, Image 3-28     Wrong image used. Hardie should be installed deeper, to widest point
Page 146                       Balkan Melody: Should be 47 x 47 inches
Page 223                       Lower image, Image is flipped left to right (the mosaics are in reverse on paper)
Page 256                       In AIMC, the correct spelling is 'Mosaicisti'