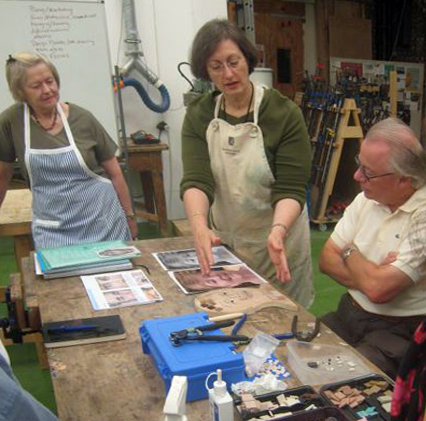 Sonia teaches workshops both internationally and around the United States. She is a Senior Tutor at West Dean College in England, teaching there every summer. Sonia also hosts on one workshop each year in special place like Istanbul, Greece or Tunisia. These locations are inspiring and enhance the mosaic learning experience. Regular mosaic classes are also offered at the Creative Arts Center of Dallas in the spring and the fall.
The goal of my workshops is to offer participants skills and knowledge that will be of benefit over the long term. I hope to impart an elevated sense of what mosaic art can be as well as practical and artistic insights, enabling participants to push their work to the next level. The focus is on the discovery and development of each participant's artistic voice. I don't want teach people to make one of 'my mosaics', but rather impart the skills and expertise that have helped me succeed in using mosaic as the medium for my personal self-expression. I am happy to share everything I know.
Mosaic is different for every one. I want to help people develop their own unique voice, figure out what mosaic can be for them and move closer to discovering their own place in the world of mosaic art. The workshops are designed to be empowering and encouraging to mosaicists at all stages of their life in mosaic.
Technically, there is extensive work on cutting techniques, using various materials, laying styles and more as well as discussions covering a variety of topics including ergonomics, adhesives, substrates, tools, framing and hanging, the business of art, etc. Critical thinking and problem solving strategies for design and implementation will be used throughout the class. It doesn't matter what style participants work in or their preferred materials. Some will choose to explore something new while others will be helped to push their existing style and materials to new places.
Participants work on projects of their own choosing with lots of individual attention, dealing with issues specific to their own work. However, all class members are invited to participate in the discussions so there is a high level of learning from others in the class. Some prior mosaic experience is recommended. Diverse levels of expertise encourage discussions on a wide variety of topics. Participants can expect to leave the workshop with a great deal of meaty knowledge, that will be useful long after the class ends.