June 17-22, 2018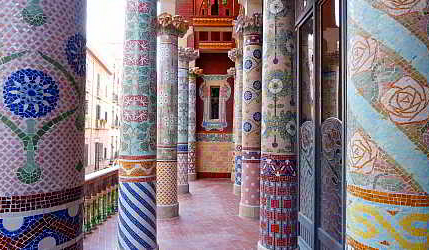 Join Sonia for an intensive mosaic workshop in Barcelona, one of the great cities of the world. Our modern studio, located in a historic 14th century building (now a modern cultural center), is just steps from the Barrio Gótica. This will be a rare opportunity to enhance your mosaic skills in an inspiring and stimulating environment, surrounded by history. Barcelona has both ancient and Modernista mosaics and we'll take full advantage of the opportunity to study and be inspired.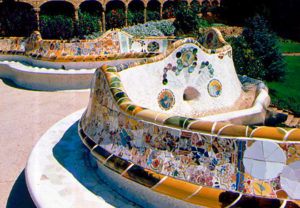 We'll visit ancient Roman mosaics at the Museu d'Arqueologia as well as Modernista mosaics on a private tour of the Palau de la Música Catalana, plus there will be opportunities to visit the Sagrada Familia Church, Parc Güell, a concert and more. On the last night, we'll celebrate while dining on Spanish paella at a wonderful historic restaurant.
The class will cover both technical expertise and aesthetic sensibility. We'll explore texture, opus and reflectivity, working direct into cement-cased adhesive. Technically there will be extensive inquiry into cutting techniques, methods of laying and broadening your skill set. Focus will be given to style development and individual expression. You'll leave the workshop with an elevated sense of what mosaic can be, a new way of thinking about your work and the knowledge needed to push to the next level. Some prior mosaic experience is recommended.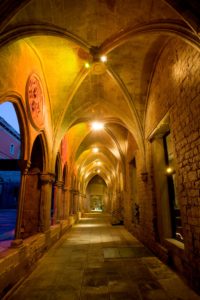 Our classroom is located in the hip El Born district, near the historic Barrio Gótica, so there are lots of hotel choices in all price ranges within easy walking distance. Class members will be sent a list of several possible hotels, including where Sonia is staying. The get-acquainted dinner will be the evening of June 17th. Class will be June 18 to 22 with the closing night party on the evening of the 22nd. On other evenings, everyone can choose from the wide variety of good restaurants in the area as well as from a list with recommendations.
The course fee includes:
Get acquainted dinner at a fine, contemporary restaurant in seventeenth-century stone building
Individual instruction/coaching by Sonia, structured to meet each participant's experience level and goals.
Group discussions on the art of mosaic, cutting techniques, ergonomics, technical issues, the business of art, critical thinking and problem-solving strategies for design/implementation and more.
Substrate and adhesive. Bring your own hand tools. Participants will bring materials to work with such as glass, unglazed ceramic, smalti, beads, found objects, etc. Info on recommended tools and materials will be supplied.
Class visits to the Museu d'Arqueologia (ancient Roman mosaics) and a private tour of the Palau de la Música Catalana (Modernista mosaics)
A Cava reception on a terrace overlooking the Plaça de Catedral (Cava is Spanish bubbly!)
Optional concert at the Palau de la Música
Closing night dinner party at a historic 180 year old paella restaurant located in a national monument
Not included:  Airfare, taxis, etc; hotel (list of recommended nearby hotels is supplied); meals (except as noted above); ticket cost for optional concert; shopping and cocktails!
Space is limited so early registration is recommended.
Course cost is US $3,450. Eight participants are required for the class to make, maximum class size is 12. Deposit of $1,000 is required on booking and the class will fill on a first-come, first-in basis. Balance of the fee is due by Jan. 15, 2018, allowing ample time to book air tickets. Deposit fully refundable by Jan. 15.  After that date, all money is refundable as long as the opening fills from the waitlist. (Any money transfer fees will be deducted from refunds.)
Please direct inquiries and space availability questions to Sonia
See images from the 2017 Barcelona workshop here.