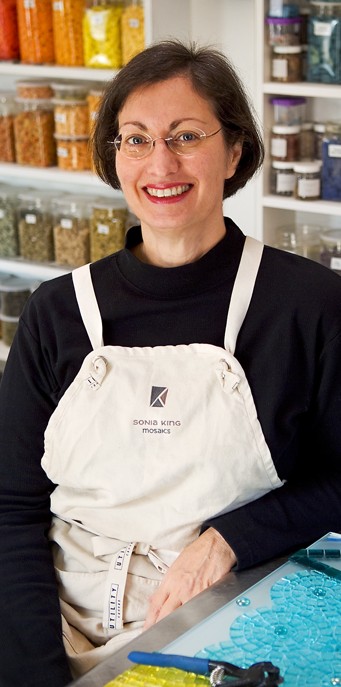 Mosaic artist Sonia King creates one-of-a-kind, contemporary mosaics for gallery, architectural and home settings. Her award-winning mosaic art is exhibited nationally and internationally and represented in private, public and museum collections.
Sonia's mosaic, Depthfinder, is the first by an American to enter the permanent collection of contemporary mosaic art at the Museo d'Arte della Città di Ravenna, Italy. She was awarded special recognition in the 2010 International Prize for Mosaic Art and Architecture in Italy and also won two Spectrum Awards for mosaic walls at Children's Medical Center of Dallas. Sonia was honored as a Distinguished Artist by the James Renwick Alliance, Washington DC, in 2017.
Sonia's first contact with mosaics was as a child when her mother worked in the medium. Her fascination with the color, texture and surface of mosaic art has remained constant. Sonia received a BFA from California College of Arts and an MBA from Southern Methodist University. After a successful business career, Sonia returned to the arts, working on a contemporary interpretation of the ancient art of mosaics as a fine art medium.
Sonia is a founding member and past-President of the Society of American Mosaic Artists and past-Vice President of the Associazione Internazionale Mosaicisti Contemporanei (AIMC) in Ravenna, Italy. Sonia has been featured on HGTV's popular show, "Modern Masters" and in numerous books. She instituted the mosaic program at the Creative Arts Center of Dallas and is a Senior Tutor at West Dean College in England. Sonia teaches intensive mosaic workshops around the world and is the author of the bestselling book "Mosaic Techniques & Traditions" from Sterling Publishing.